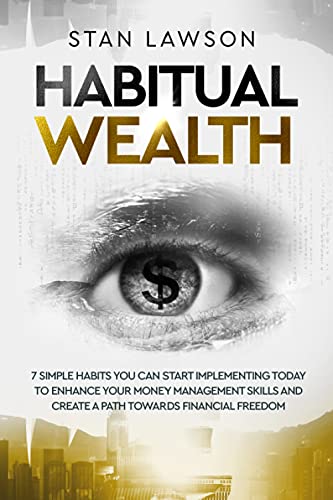 Harness the power of smart money habits and set yourself up for a lifetime of wealth.
Do you often find yourself short on cash in the middle of the month?
If you lose your job today, would your savings be enough to keep you afloat while you look for a new source of income?
Does thinking about your financial future cause you worry and stress?
A survey from Capital One and The Decision Lab reveals that 77% of Americans are anxious about their financial situation, for various reasons.
There are forces beyond ordinary people's control that dictate economic conditions. But when it comes to personal finance, it's far more likely that people experience challenges because they do not have the right skills, attitude, or habits. Especially habits.
You need to think and act the right way toward money in order to improve your financial situation. It can get overwhelming at times, as you must consider savings, income, debt, investments, and many other aspects…
But the good thing is that you can easily develop the habits you need to be on top of your finances.
In Habitual Wealth, you will discover:
-The enormous value of financial literacy — and why you should start educating yourself about money today
-A powerful, step-by-step plan for attaining and maintaining financial freedom that you can apply — even if you have to start with a small salary
-How to develop a wealth mindset that will transform your finances and your life
-How to stop worrying about money and start attracting wealth instead
-How to identify and eliminate deep beliefs that are holding you back financially
-How to create and stick to a workable budget so you're always in control of your money
-Clear and actionable tips on how to live within your means, so you can start saving and investing
-Practical advice on when, where, and how to invest — and why investing is the ticket to wealth
-Common financial habits of the world's wealthiest people that you can start developing right now
-How to reduce risks and turn mistakes into powerful money lessons all throughout your wealth journey
And much more.
Sure, it's almost impossible to save — let alone invest — if there's barely enough left after bills for even just a fancy coffee. But you don't need to stay trapped in financial uncertainty. You can be proactive and start earning more while also spending less. Inside, you'll find the guide you've been needing, packed with proven advice, strategies, and wealth principles that will set you on the right path starting today. $0.99 on Kindle.