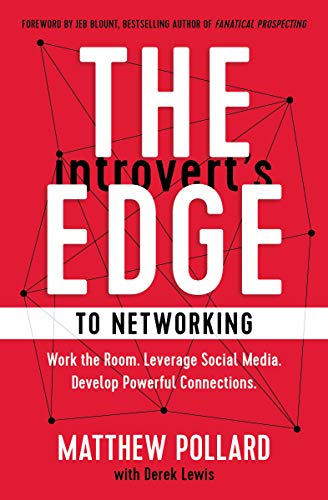 Finally – A Networking Book for Introverts!
Introverts across the world have been sold a lie: One of the biggest myths that plagues the business world today is that our ability to network depends on having the "gift-of-gab." This is nonsense. You don't have to be outgoing to be successful at networking. You don't have to become a relentless self-promoter. In fact, you don't have to act like an extrovert at all.
The truth is, introverts make the best networkers . . . when armed with a plan that lets them be their authentic selves.
Matthew Pollard, an introvert himself, draws on over a decade of research and real-world examples to provide an actionable blueprint for introverted networking.
Whether you're a small business owner struggling to make a living or a professional who's hit a career plateau, The Introvert's Edge to Networking is your path to a higher income and a rolodex of powerful connections. $14.99 on Kindle
–>Audiobook special offer, only $2.95 on Audible, today only (Aug. 11) Learn more. <–