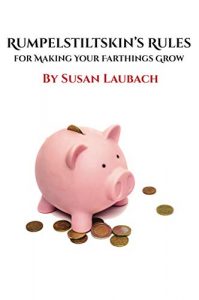 Ready to get a clue about investing and take charge of your financial future?
Before you sink a single dollar into the stock market, read 'Rumpelstiltskin's Rules for Making Your Farthings Grow' by Susan Laubach. It's a fun, painless, and profitable introduction to the world of investing.
If terms like broker, bonds, and venture capital cause you to break out into a sweat, fear not! Laubach teaches through entertaining, colorful retellings of fables and fairy tales you already know by heart.
You'll learn business and investing fundamentals right alongside The Three Little Pigs, Sleeping Beauty, Goldilocks, and more.
How are stocks and bonds different?
What causes a stock price to go up or down?
Why are earnings per share critical to understand?
You'll even learn an easy-to-apply "secret formula" to discover if a stock price is a good value—or not!
Investment concepts are broken down in easy-to-understand, easy-to-remember language. Rumpelstiltskin's seven rules will provide a foundation for all your future investments. (They'll also equip you to sniff out the foxes and wolves selling bad investments).
These "rules" are essential for investing, served with a smile, so you can laugh while learning.
A practical summary and study guide at the back of the book further reinforces your knowledge and provides a quick refresher whenever you need it.
With Susan Laubach as your storyteller and guide, you can be sure you're in good hands. She is a former Wall Street stockbroker and financial educator. She's taught several levels of investment education to students aged 18 to 74. Better Investing Magazine called Laubach's previous book "the most-well rounded source of basic stock information and education."
Look, if Baby Bear can grow up to be a successful stockbroker, then you can learn to invest, too.
Time is money, and there's no better time to learn about investing than right now. Make 'Rumpelstiltskin's Rules for Making Your Farthings Grow' your first—or next—investment in your financial future. The knowledge you'll gain will pay dividends for the rest of your life. $9.95 on Kindle.