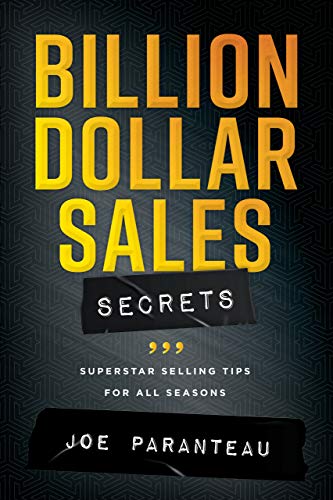 Billion Dollar Sales Secrets Is More Than a Business Book. It's The Secret Playbook for Profitable Sales! You will learn advanced tactics, techniques, and the mindset to achieve accurate results. Are you ready for the wealth, respect, and influence most entrepreneurs would LOVE to have?
This book is more than a sales or business book; it's filled with valuable insights. Joe Paranteau is an elite salesperson who generated over a BILLION dollars in revenue – in five years. Today he is a leading expert on sales performance who shares his knowledge with sellers of all types. In this book, he's sharing so many great tips and ideas to help you CRUSH IT! Regardless if you're in real estate or B2B sales… or selling ANY product.
Prepare to take a valuable look inside the mind of an elite salesperson who's had more than 30,000 sales meetings. This is a rare look into how to achieve sales success. And it's NOT something you want to miss! Joe guides readers on a journey, offering invaluable lessons earned over thirty years. $9.99 on Kindle.